Happy Easter weekend! I hope you're all in for a restful and joyful next few days spending time with your families. I know I'm so blessed and happy to be close to mine. Here's what I've been up to this past week:
I'm in a play! I wasn't really sure I'd keep acting after graduating but so far I've been in at least 2 shows a year since then, and it really makes me so happy. This time I have a really fun role as Hermione in The Winter's Tale, and we're getting to perform it outside! I love it I love it I love it.
Some of our rehearsals for the show have been inside this old abandoned movie theater downtown. I'm pretty sure there's like a trifecta of poisons all up in there (asbestos, black mold, lead paint…) but dang if it doesn't look cool. And kind like Noahs Ark a little bit.
This may be the most impressive picture I've ever taken. I don't think I've ever swiped that little camera icon on my phone so fast!! My poor roommate tried to open the blinds and they just came crashing right on down on her. As my friend
Corey
says: #jacksonproblems!
We had like ONE DAY of nice weather before it got "so freezy" again, as the kids I keep like to say. Where are you, spring?! It's the middle of April and the heat is on! I though we were in the south?!
Nice weather does mean the the pollen-pocolypse is upon us. I'm blessedly not very allergic, but I'm no fan of everything I own being tinted green. Such a pain to clean up!! I'll take you, though, pollen, if you promise to bring some more sunshine!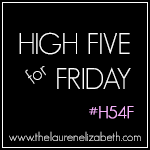 I'm linking up with
Lauren Elizabeth
for High Five for Friday. Hope you all have a marvelous weekend!